Een Spray Tan voor een snelle bruine teint?
Deze celebrities gingen je reeds voor!
Bridget Maasland Spray Tan
In het programma 'Hoe word ik een New Yorkse vrouw' krijgt Bridget Maasland voor het eerst een spray tan in een exclusieve spray tan salon. Bridget gaat op ontdekkingsreis in deze 'hoofdstad van de wereld', en om zichzelf een Sex and the City look aan te meten, shopt, date en relaxt zij alsof zij het droomleven van een glamourgirl leeft in New York.
Na afloop is Bridget 'superblij': "Ik hoef nooit meer in de zon, Ik moet dit thuis hebben gewoon! Alsof ik net van de Bahama's kom. Ik ben er helemaal blij mee. Het hele jaar niet op vakantie geweest, en dan toch zo'n kleurtje!"
Bekijk full screen
Sylvie Meis
Sylvie Meis
Cosmo Body Zomer 2015
Sylvie Meis in de Cosmopolitan Body Zomer Special: "Als je nog niet helemaal in shape bent, maar je hebt wel een vakantie gepland en gaat in bikini, dan zou ik altijd adviseren om een fake tan te gebruiken. Het is bewezen dat je met een kleurtje er slanker uitziet. Ga niet onder de zonnebank, dat doe ikzelf ook niet."
Magic Mike
What It's Like To Spray Tan The Cast Of Magic Mike XXL
Yes, spray tanning Channing Tatum, Matt Bomer, and Adam Rodriguez — the oft-half-naked and ridiculously ripped stars of the upcoming Magic Mike XXL — is an actual job, and a full-time "Seven Days A Week," one at that. But, before you start giggling like a schoolgirl, and making double entendres, know that Felicia Linsky, the woman behind those bronzed, rock hard abs and glistening gluteal muscles, takes her job very seriously.
Victoria Secret Angels
Victoria Secret Modellen
How to Tan like a Victoria's Secret Angel
I tan the models a day or two before the show. However, some models opt to tan the day of the show. Once the spray tan is applied, I advise them to rinse off with warm water six to eight hours later. After the shower and light towel-dry, I recommend applying a moisture-rich lotion to the skin. Hydrated skin keeps the tan long-lasting and healthier looking.
Chrissy Teigen
Chrissy Teigen Spray Tan
Topmodel: "Wedden dat ik met deze naaktfoto van Twitter vlieg?"
Als ik hierdoor niet van Twitter vlieg, weet ik het ook niet meer." Een terechte opmerking, gezien de overvloed aan naakt waarmee Chrissy Teigen haar volgers bestookt. Het topmodel staat hier in haar blootje omdat ze een stevige spray tan-beurt krijgt. Teigen is niet alleen vriendin aan huis bij 'Sports Illustrated' (waar ze geregeld de felbegeerde badpakkenspecial haalt; nvdr), ze zal ook in het huwelijksbootje stappen met zanger John Legend.
Kate Middleton
Kate Middleton Spray Tan
Kate Middleton is Queen of self tan
The royal's year round glow is now the top choice for women looking for lovely luminous skin, so it's time to ditch the Essex orange glow and opt for a more sun-kissed look instead. Girls, say hello to the Kate Middle-tan. Yup, the Duchess of Cambridge's skin tone now has it's own nickname since her subtle colour became the most requested spray tan shade.
Jennifer Lopez
Jennifer Lopez Spray Tan
Want that JLo glow? Just spray it on!
Ever wonder why celebrities like Jennifer Lopez, Jennifer Aniston and a once-pale, freckled-faced Lindsay Lohan have a sun-kissed glow all year-round? No not from visiting San Tropez -- it's spray tanning! And you can get the same glistening look they have.
Jennifer Aniston
Jennifer Aniston Spray Tan
Can You Afford to Look Like Jennifer Aniston?
As you may have guessed, Aniston doesn't come by that golden skin tone naturally. She's been spotted coming out of the Ibiza Tanning Salon in West Hollywood, Calif., where an airbrush tan runs $45. The salon recommends coming in every two weeks to maintain your glow.
Anna Paquin
Anna Paquin Spray Tan
How Celebs Get Healthy, Glowing Skin All Year Long
While she's best known for her role as a vampire on True Blood (no tan needed), Anna Paquin has professed her love for spray tans over and over again. "It's amazing how different your body looks with a good spray tan," the actress says. "As anyone facing a job where they're naked would!" Paquin gets spray-tanned by Hollywood sunless tanning "it girl" Monica Blanco of Colour Couture.
Paula Abdul
Paula Abdul Spray Tan
How Celebs Get Healthy, Glowing Skin All Year Long
Paula Abdul stops by this Manhattan tanning spot whenever she's working in New York. Here, she and other celebs get customized airbrush tans from technicians who specialize in evening out skin tone and texture. Tans here start at $60.
Patsy Kensit
Patsy Kensit Spray Tan
Celebrity Big Brother 2015
No, your eyes were not deceiving you – Patsy Kensit really did look that sun-kissed during her time in the Celebrity Big brother house, thanks to having secret spray tans while she was there. Yes, the pop star turned actress – who was given her marching orders from the house in Tuesday night's eviction vote – has admitted getting the once-weekly tanning sessions as part of her contract for the show. 'I've had two spray tans over three weeks because I look like I've got consumption where I go really white because I have yellow in my skin.
Katy Perry
Katy Perry Spray Tan
Katy Perry klaar voor Super Bowl
"Vorig jaar was deze eer weggelegd voor Bruno Mars, Katy heeft hem daarom wat berichten gestuurd. "Hallo, exclusief Super Bowl-clublid! Ik vroeg me af of je in L.A. bent deze maand en thee wilt drinken met een collega die op het punt staat over te geven van de zenuwen. Via onze managers heb ik over je proces gehoord, maar ik vroeg me af of je nog tips hebt voor me. Of ik mijn spray tan de nacht ervoor of drie nachten ervoor moet aanbrengen bijvoorbeeld."
Chrissy Teigen
Chrissy Teigen Spray Tan
SI Model Chrissy Teigen Talks About Her 3AM BRONZED Spray Tanning
Oh my god, I landed at two, and I texted my spray tan guy, who I found only because I tweeted and was like, "Who is amazing in Vegas?" They all told me this one guy, Terry, who is absolutely fabulous. I texted him as soon as I landed at two and was like, "I'm so sorry, do you think you could do a tan at 2:30?" and I felt terrible. And he responded, "3 AM is better for me." Because that is how Vegas operates! I couldn't believe it!
Mark Wahlberg
Mark Wahlberg Spray Tan
Mark Wahlberg Strips Down for Spray Tan
Mark Wahlberg knows the importance of practicing safe sun, which is why he opted for a spray tan over the tanning bed ahead of filming his latest flick, Pain and Gain, in Miami on Tuesday. The actor, 40, stood out on his condo's balcony as a spray tan technician made a house call to touch him up. Wearing just black briefs (an homage to his days as 1990s Calvin Klein underwear model Marky Mark), the woman blasted him with an airbrush gun, paying extra attention to making sure his chiseled features were enhanced.
Hayden Panettiere
Hayden Panettiere Spray Tan
Vanessa Hudgens Talks Tanning Tips!
Fellow Neutrogena ambassador Hayden Panettiere is urging everyone to get a fake tan. A fake, spray tan that is. 'My biggest tip for teens when it comes to tanning is don't tan. Don't use the sun. Everyone fakes it nowadays. You know you see these celebrities walking the carpet and they've got these pretty tans. It's fake, fake, fake," Hayden shared.
Pippa Middleton
Pippa Middleton Spray Tan
Pippa Middleton's 'Royal Mocha' leads the celebrity tan tone scale as the most desirable shade in Britain
Choosing the right shade of fake tan can be a tough decision, but it has been revealed that Pippa Middleton is influencing British women to opt for a 'Royal Mocha' tone this summer. Miss Middleton's glow has been named the most desirable skin tone by a new study which discovered the most and least desirable celebrity tans.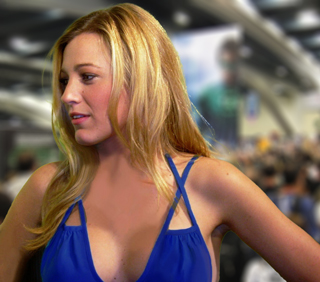 Blake Lively
Blake Lively Spray Tan
Blake Lively Has Got it Glowing On! How to Copy Her Golden Look
The couple walked the red carpet at a Deadpool event in N.Y.C. Monday looking happier than ever — and it wasn't just their smiles that had them glowing. Lively's hair displayed a freshened-up blonde hue — and her sun-kissed skin glowed brighter than ever from what looks like a fabulous spray tan and some pro contouring work by makeup artist Gucci Westman.
Maria Kang
Spray it on or keep it real? Absolutely spray it on!
Anna Paquin
I work out like a maniac and I spray tan a lot.
Anna Scott
I'm not a tanning bed person at all, but I'll get a spray tan.
Bridget Maasland
Alsof ik net van de Bahama's kom. Ik ben er helemaal blij mee.
Michael Douglas
When I go on a holiday to a tropical place, I'll spray tan before I go.
Lori Loughlin
I don't really have a tan. I go to the tanning place, the one that sprays you with color.
David Cook
It's amazing what a spray-on tan will do.
Emma Stone
The last time I got spray-tanned was for the Golden Globes. And I was like, 'I love spray-tanning so much.'
Kim Kardashian
I am a huge fan of tanning products.
Leann Rimes
My assistant, Kiki, and I love to spray tan so much, so we finally bought a machine and started to spray each other.
Demi Lovato
I get spray tans in the summer when I'm on tour or have red carpet things where I need color really fast.
Jessica Alba
I definitely do a spray tan here and there! This tan isn't real! I knew I was going to be running around in dresses so I got a spray tan before I got here.
Paris Hilton
"One thing I've learned is tanning beds are so bad for you," says Paris who has travelled with her own spray-tanning machine. "I was always obsessed with tanning when I was a teenager. Now I just use fake tan which is so much better than being in the sun."
Kate Hudson
Kate Hudson
K-Hud has her own personal body sculpting spray tanner, because of course she does.
Hailey Bieber
Hailey Bieber
"She wanted to exfoliate the dead skin off of her body and feel smooth before traveling and getting a spray tan," the source says.
Gigi Hadid
Gigi Hadid
To amp up her Cali girl tan, the model swears by Spray Tans for streak-free and long lasting bronzed skin.
Khloe Kardashian
Khloe Kardashian
My glam squad uses it whenever I'm shooting to give my legs an even, glowy effect. It totally blurs out any little veins or freckles, and gives my tan a boost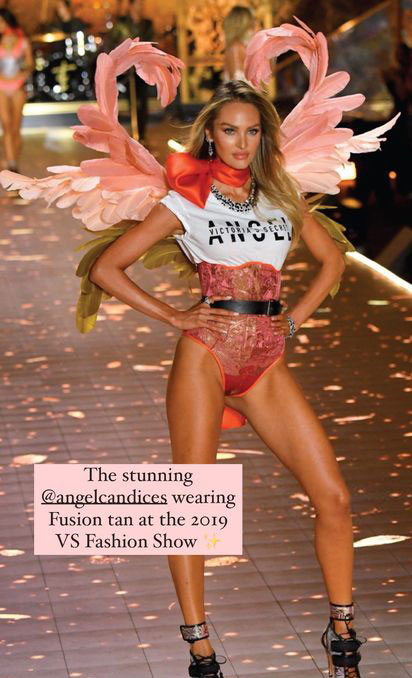 VANI-T Spray tan
VANI-T SPRAY TAN
VANI-T Spray tan
VANI-T SPRAY TAN
VANI-T Spray tan
VANI-T SPRAY TAN
VANI-T Spray tan
VANI-T SPRAY TAN
Connie Nielsen recalls awkward "naked" encounter with Gal Gadot during 'Wonder Woman'
"The first time I met Gal I was in the make up trailer inside a tanning tent getting spray tanned – a uniquely clammy experience," Nielsen said. "I step out of the tent, naked but for a thong, Gal is whipping off her clothes to get into the tent – and that's where we said hello the first time. Playing her mother added an extra twist to awkward."
Connie Nielsen | Gal Gadot | Wonder Woman | Spray Tan
ONDEROX MAGAZINE
Getest: tanning spray
Vanuit de spiegel kijkt iemand anders terug. Iemand die net terug is van een zonvakantie of twee. Perfect egaal. Het plakkerige gevoel blijft helemaal uit. En over geuren valt te discussiëren, maar stinken doet het niet.
ONDEROX MAGAZINE
Beauty Biz
Vani-T Spray Tan lichaam uitgetest
De producten van Vani-T wonnen al talloze awards en worden door celebrities over de hele wereld gebruikt. Make-up artiesten van Vani-T hebben onlangs zelfs genomineerden in Hollywood voorzien van een glamour look voor de Oscar uitreikingen.
Beauty Biz
Flair
De beautytest: spraytan
Een grote plus is de kleur. Zonder strepen, maar vooral een mooie tint bruin, die lijkt alsof hij echt van de zon komt. Geen zweem oranje, wat ik met andere zelfbruiner vaak wel had. Ik zal Vani-T zeker nog eens laten doen.
Flair
Belmodo
Tested and approved: Vani-T Spray Tanning
Vani-T gebruikt natuurlijke en organische ingrediënten die toch een luxueus en quality resultaat geven! Ze hebben een natuurlijk resultaat - no orange legs for us - en het blijft tot 10 dagen zitten. In enkele minuten kan je dus van melkfles naar Brazilian babe gaan!
Belmodo
Spray tan Leuven is als enige gecertifieerd om VANI-T te gebruiken in Leuven.
Spray Tan leuven werd door Belmodo gekozen als één van de 3 beste adressen voor Spray Tans!
Denise Richards Spray Tan
Victoria Beckham Spray Tan
Kelly Brook Spray Tan
Julia Roberts Spray Tan
Jenna & Channing Tatum Spray Tan
Zac Efron Spray Tan
Matthew McConaughey Spray Tan
Nog meer
Spray Tan

Celebrities
I got a spray-tanning thing, and I was like, 'Can you give me a little bit more on my stomach?' So they highlighted and contoured my stomach a little bit. They literally just give you one spray extra. In photos it shows up really nicely, but when you're just looking in the mirror, you don't see anything.
Pratt is currently filming "Jurassic World: Fallen Kingdom," which is why he had the spray tan at all. Perhaps things will be a bit sunnier in the sequel, though we do seem to remember that 2015's "Jurassic World" took place on a tropical island.
Helen, die in de soap Coronation Street speelde, presenteert Celebrity Super Spa. Ze keek voor het naar bed gaan in de spiegel en raakte in paniek. Helen was ervan overtuigd dat ze zou verbleken naast de beroemdheden. Uit alle macht heeft haar assistente naar iemand gezocht die een nachtelijke spray-tan kon uitvoeren. Dat lukte uiteindelijk om half twee, waarna Helen nog een kort schoonheidsslaapje kon houden!
It's a huge suitcase that is just full of everything. I have every single beauty product. It's very organized, but there's just so much because I just want to have all my products. I'm obsessed with beauty products. And I have a spray-tanning machine because a lot of the countries where I travel, they don't even know what that is, and I don't like going in the sun, and I don't go in tanning beds. I stopped when I was a teenager because I was scared.
Isla Fisher is the absolute best to spray. Not only is she beautiful, she's the funniest person. It takes me 40 minutes to spray her because she's got me laughing so hard.
On Her New Obsession With Spray Tans: Dunst, who says she has "the kind of skin that you touch and it gets red," recently discovered spray tans. "You lose like five pounds immediately, and your face is glowing and gorgeous!" It's fun to watch Dunst continuously cast herself in these one-minute roles. Talking about self-tanner, she becomes a mini opera star, puffing up her chest and opening her hands like she's going to belt it to the mezzanine level. "I look amaziiiiiiing! I did it for my last movie. Then Isla saw me and was like, 'I'm gonna get spray-tanned too!' I only did it twice so I'm tan in like two scenes and super-pale in the rest of the film."
"But poor Rob, he's on tour right now and he has decided that he is going to tan his way through this tour because he can't work out." She continued: "He's decided the tanner he is, the thinner he'll feel. So he's been getting spray tans and he got done a spray tan yesterday"
Throughout his career, Jules has worked with everyone from Kate Moss to Blake Lively. He also recalls an amusing encounter with Kendall Jenner. "I worked with Kendal backstage in Milan during fashion week and couldn't believe how normal, down to earth, and simply divine she was," he shares. "But it was completely embarrassing—I didn't recognize her until halfway through the tan! I blame the 4 a.m. call time."